Any Pilot will tell you that this is an expensive hobby. Not only is their flight time and instructor time to pay for, there are also gadgets that are required to fly safe. On top of that, there is the matter of apparel. Pilots love the gear they can wear to show off the fact they are a pilot. There is also the matter of gifts for you and your pilot friends.
Google pilot stuff or pilot gear and you are graced with millions of results. Where is the best place to buy pilot things? Which company will treat you right? Who has that unique gift that you can buy your pilot friend (or yourself)?
For me, and many other pilots that answer is Sporty's Pilot Shop.
Company Info
Sporty's website says they are the world's largest pilot shop and judging by their website and products offered I don't doubt it.
They have a brick and mortar building they encourage you to visit located at the Clermont county airport (I69). You can locate them just outside Cincinnati Ohio. From FBO services to their Saturday cookout the Sporty's team has created a unique experience for pilots.
I need to add them to my flying destination bucket list.
Sporty's has been around for over 50 years and their dedication to pilots shows that they may have learned a thing or two in those years. Most of their products are either created by them or tested by their knowledgeable staff.
Selection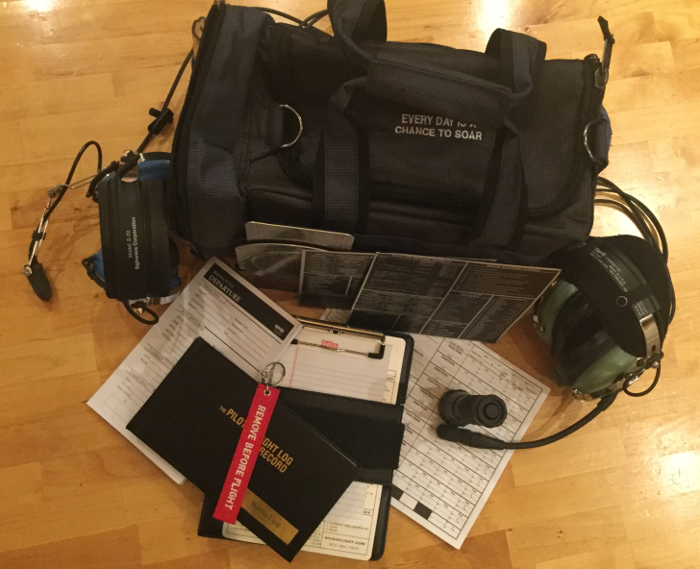 The number of items on Sporty's website is impressive. They have every type of training manual and video available and do-dads for your plane.  Their apparel section ranges the gamut from Tees to Jackets and throwing in some undergarments for good luck.
You can't scoff at an incredible selection of headsets and accessories for your iPad/Android deices and avionic radios. Their flight bags and teaching gadgets are top notch too.
Rounding out their main categories you have kneeboards and charts and gifts for any pilot or lover of aviation.
Honestly, I think I have purchased at least one thing from every main category they have, and I'm working my way through all the sub categories too.
Their 50 years in the business has provided them the opportunity to really understand what pilots need and want and they have the largest selection of any other store I've checked out.
Quality
Almost everything I have bought there is still in use. I have one product, a kneeboard, that I'm having some issues with. It is not a Sporty's product, but one they sell. In their current defense I have not reached out to them about the issue so it's a non-starter in my book until I determine I want to do something about it.
They have a 30 day guarantee of all products and a 1 year warranty on their products as well. A reasonable expectation of a company that stands behind the products they sell.
I haven't looked to see if the manufactures of different items have longer warranties but really, I've not needed it for most of the stuff I buy.
I'll go into more detail on some of the products I've bought from them in future post. Their products are some of the best I've had the pleasure of putting to the test in my short piloting career.
Ease of Ordering
With full disclosure, I am not an affiliate for Sporty's. However, I have spent a pretty penny on their stores and apps.
Much like any e-commerce site in this day and age they have a cart system that allows you to add items you like to your cart and adjust quantities as needed.
Their continue shopping button on the cart wisely takes you back to the page you were browsing before unlike some I've seen around the web.
The actual checkout process has 6 steps to it which I think is a bit overkill in the "micro commitment" department.
The good news is if you have purchased with them before you can login to your account and you don't have to input all your data again. You can simply select which of the options that you added before, or create a new one if needed.
Customer Account
After making a purchase, or several purchases like I have done, its nice to be able to login to your account and see your order history.
From there you can add a review to your products, order more of the things you've ordered and set up subscriptions. They really did a great job thinking through the customer experience and tried to make it easy for everyone to enjoy using their website.
I also enjoy their wish list link.  It allows me to window shop and save the item for later without having to trudge through a whole bunch of products. I am notorious at adding watches to my list, but I have a thing for watches.
You can also share your wish list so you can give it to your significant other and let them pay for your flying habit.
Chart Subscriptions
Speaking of subscriptions, one of the more awesome things they do is you can set up chart subscriptions. Now you don't have to remember when your charts expire. Sporty's will charge your card on file and send you a new chart so that it arrives at your house right before your current chart expires.
You reduce the potential for forgetting to renew your charts and get a constant reminder that you need to get out and fly all at one time!
Wright Brother's Collection
The last thing I'm going to talk about for Sporty's is the Wright Brother's Collection. Designed as more of a gift shop there is plenty for all pilots on this section of the website.
Ranging from propellers to recreated and orignial aviation signs the Wright Brother's collection is just what an aviation enthusiast needs; another reason to spend money on cool aviation things.
Coupon Codes
Being a woman I feel somewhat naturally inclined to try and find the best price on something. However, it is very difficult to find any coupon codes for Sportys.
My catalog comes with a code on the back that they want me to use to help with marketing and tracking effectiveness but that's not a coupon.
Even searching some of the more well known coupon code sites doesn't dig up much in the way of discounts or deals either.
This is one area that I think they can really improve on. Coupon codes don't have to be much to be effective. Sometimes we only want to "feel" like we got a bargain
Catalogs, Emails and other Communication
Now any review would be amiss if it didn't mention the after sale communication. Sporty's does a great job of touching the customer just the right amount of times. I get a catalog once a month and with every order I purchase. Since I have bought from both the main store and the wright brother's collection I will occasionally get two sporty's catalogs although they are from the different collections.
Email's are not overwhelming either. I get the usual confirmation emails for my initial order and to let me know that it's shipped. Sometimes they will email because another customer had a question about a product I purchased. Sporty's would rather have another customer answer the question first giving the social proof of the product.
I don't get a ton of promotional emails which is really appreciated by my inbox, which seems to always have more emails than I care to read.
However, they are good at their marketing as they will send a reminder email to your inbox if you have left a cart with items in it. Again, no coupon code but it's a slick reminder that I intended to pay for a product but haven't yet.
Conclusion
I've said it before, and I'll say it again. Sporty's has been very capable of separating me from my money.
In a good way.
I am a huge fan of this company and will continue to send my business there. Not only are they fun / cool / interesting products but they are tested by pilots. This ensures they meet the needs of you as a pilot. If you haven't checked them out already take some time to do so. There is an amazing number of products available.
Have you bought anything from Sporty's? Have anything to add to my review? Leave me a comment and let me know.
Comments
comments